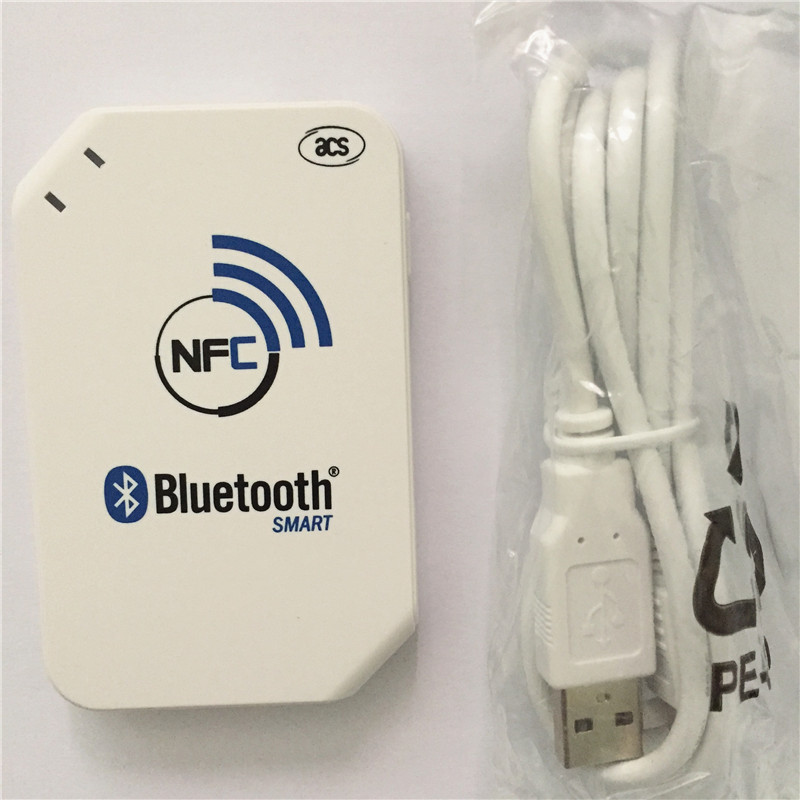 Introduction:
The NFC Bluetooth Reader ACR1255U-J1 is compliant to ISO-14443 Parts 1-4, ISO 18092
and supporting contactless card, MF1 cards, FeliCa cards, NFC tags etc.
The reader supports Bluetooth Standard 4.0, "single-mode" operation. It is full-speed USB 2.0
and compatible to different OS, e.g. iOS, Android and Windows platform.
ACR1255U-J1 provides Li-ion battery with 320mAh for power supply. It also has two LEDs and buzzer
to show the state of operation.
The reader will use the "Li-ion hanging square casing".


Features:
Support contactless smart card:
1, ISO14443 Parts 1-4.
2, ISO18092 (NFCIP-1) Compliant.
3, MF One Classic, MF One 1K,4K, MF Plus and DESFire.
4, FeliCa Card.
5, NFC Tag Types 1,2,3,4.
Support 2 LEDS for smart card and wireless transmission.
Support Bluetooth 4.0 protocol for data transmission(single-mode operation).
Support User-controllable Buzzer.
Switch for Bluetooth/OFF/PC-linked modes.
USB 2.0 full speed (12 Mbps).
Li-ion rechargeable battery ( for portable usage).
Mini USB port.
CCID protocol.
PC/SC compliant.
OS Platform support:
1, WHQL from Windows 2000, XP and up.
2, Win CE 5.0 and up.
3, M ac 10.5 and up.
4, Linux .
5, Android 3.1 and above .
Compliance to Standards and Certifications. CE. FCC.VCCI. RoHS.BQB.
Compliance to CSCR API Standardization .

Technical Specification
Universal Serial Bus Interface

Type

USB full speed, four lines: +5V, GND, D+ and D-

Power source

From USB

Speed

12 Mbps

Power supply

Supply voltage

Regulated 5V DC or Battery 3.7V DC

Supply current

< 200mA (without smart card)

Bluetooth Interface

Type

Bluetooth low energy 4.0 single-mode

Contactless Smart Card Interface

Standard

ISO 14443 A & B Parts 1-4, ISO18092

Protocol

ISO14443 T=CL for ISO14443-4 compliant cards and T=CL Emulation for MF One 1K/4K, ISO 18092 FelCa and NFC tag

Smart card read / write speed

106 kbps, 212 kbps, 424 kbps and 848 kbps

Operating Frequency for Contactless Cards Access

Operating Frequency

13.56 MHz

Antenna

Operating distance

up to 60mm(Depend on Card Type)

Case

Dimensions

85.00mm (L) x 54.00mm (W) x 10.00mm (H)

Color

White

Weight

40g (approx.)

Operating Conditions

Temperature

0 - 50 degree

Humidity

10 - 90

Standards/Certifications

CE, FCC,VCCI,RoHS,BQB

OS

Windows XP,Win CE5.0,M ac 10.5, Linux, Andriod 4.3

OEM

OEM-Logo possible, customer-specific colors, casing and card connector